Advertising on social media helps brands to interact with their customers and engage them en masse with great content, making it an essential part of every marketer's agenda. However, not every social networking site is suitable for every kind of business.
In the previous article, we have taken a look at how Facebook, Google+, Instagram and LinkedIn can be used to support different types of online interaction and businesses. Here, Script Consultants breaks down the demographics of Pinterest, Tumblr, Twitter and YouTube, and how businesses can leverage on the different opportunities presented by each one.
Pinterest
According to Shareaholic, around 5% of all referral traffic to websites come from Pinterest. This is second only to Facebook, but more than Google+, LinkedIn, and YouTube combined. Pinterest users are also especially eager to connect with their favourite brands – two-thirds of the content saved to Pinterest comes from businesses.
Because Pinterest is like a virtual cork board that allows users to curate images and videos, businesses can use it to showcase their product offerings while also developing Pin Boards. This image-centric platform is ideal for retail, or just any business looking to be on top of social media.
https://business.pinterest.com/en/blog/10-reasons-why-your-business-needs-be-pinterest
Tumblr
Tumblr is strong with teens and young adults interested in self-expression through photos, images, GIFs, memes, videos, or anything that contains a striking visual image. In fact, 76% of Tumblr users are teens, and 61% of these 13 to 18 year olds said they used the service several hours a week or more.
Furthermore, good content easily racks up a relatively high amount of interactions. 29 percent of reblogs on Tumblr were from posts that were at least 30 days old, and the average sponsored post on Tumblr gets reblogged over 10,000 times. An American Apparel post that hit Tumblr in January 2012 even picked up over 2,000 reblogs a year later in January 2013. And it is still being reblogged today.
Twitter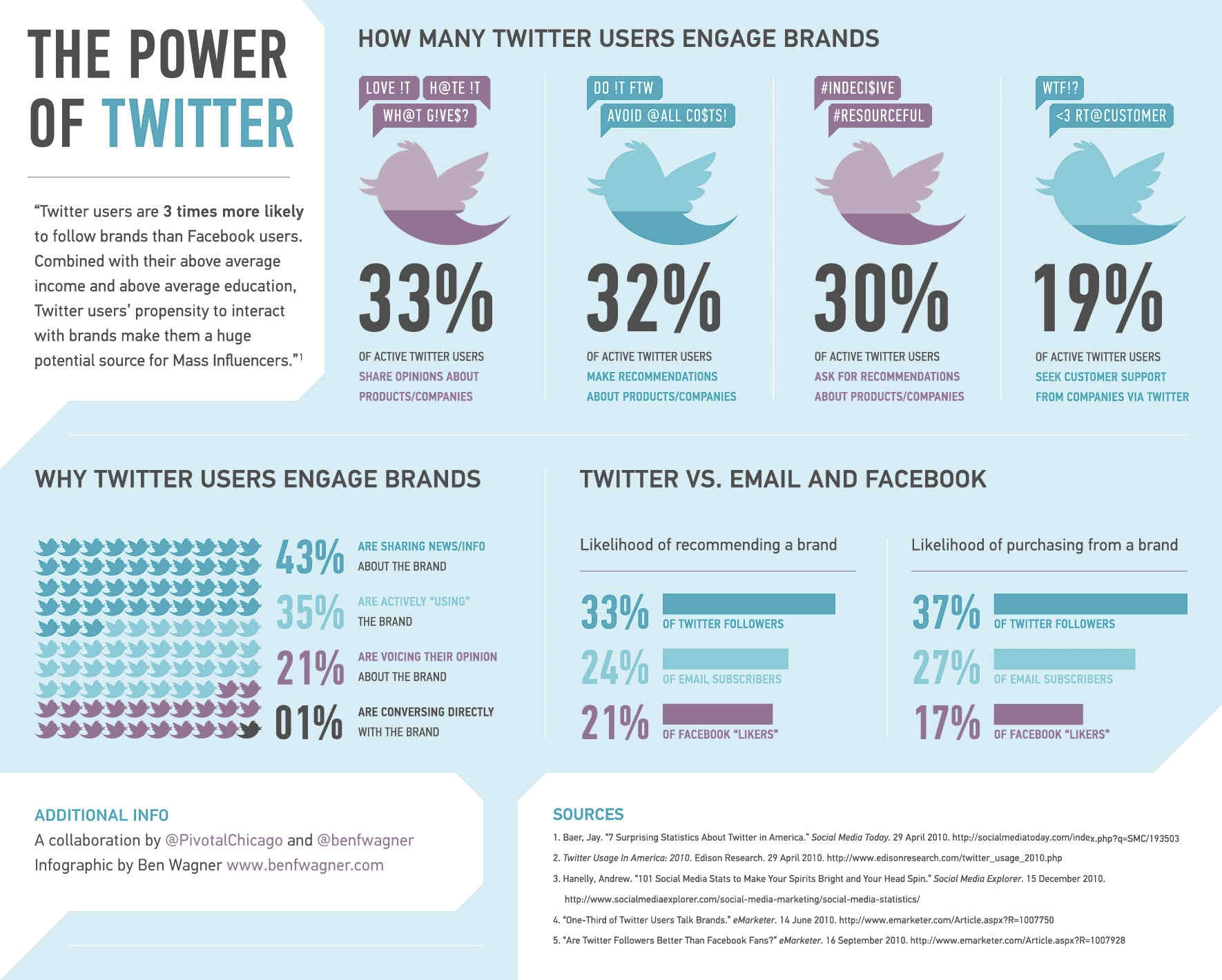 People tend to use Twitter for news consumption, with 83% of users reporting seeing news on Twitter in 2012. Businesses should use Twitter to broadcast their updates, but also occasionally intersperse them with specials, discounts and some fun, quirky tweets.
A study by Twitter also found that brands that get personal in customer service interactions do far better than those that keep it business-like. This means that brands should retweet when a customer has something nice to say about themselves, and answer any questions which pop up, to keep up the two-way interaction.
YouTube
When users are making search queries relevant to a product or industry, they want to see the product in action, or hear reviews about it. In this respect, it is easier to connect and engage with audiences through video when compared against written content, and that is just what YouTube was built to do.
Building up a portfolio on YouTube is also good for a business' search engine optimisation. Besides having the videos easily found on its parent company Google's search engine, YouTube is also the second largest search engine on the web today, and the third most visited website worldwide.
http://www.aztekweb.com/blog/post/Should-You-Create-a-Branded-YouTube-Channel-For-Your-Business.aspx
Written by: (www.script.com.sg) Edited & Illustrated by: Script Consultants Pte Ltd (Singapore).
https://script.com.sg/wp-content/uploads/2016/01/01_original1392806271.jpg
1027
1738
Script Consultant
https://script.com.sg/wp-content/uploads/2018/02/new-logo-web.jpg
Script Consultant
2016-02-02 03:37:36
2018-10-14 13:36:42
Which Social Media Networks Support Your Brand's Image? (Part 2 of 2)