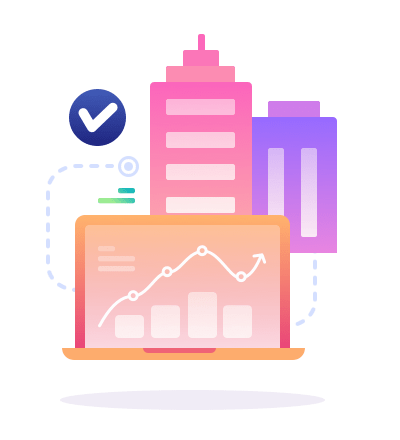 BEST SEO AGENCY IN SINGAPORE
Rank your business high on Google by hiring us for the Best SEO Services in Singapore.
If you want to get your business listed on Google's first page then look no further than us! We are the Best SEO Company in Singapore that has been helping many businesses across the globe achieve this goal of getting ranked higher on Google Search Engine Result Page (SERP).
Get your website ranked on 1st page of search engine because no one scrolls down to the 2nd page. Our team of SEO experts will optimize your whole website (including the content) and help your business in getting more visibility, traffic and leads through organic ranking.
On Page SEO
On-page SEO is the practice of optimizing a webpage to rank higher in search engine results and drive organic traffic. On Page SEO can also help to increase the click-through rate (CTR) of your website. 
Off Page SEO
The purpose of Off Page SEO is to build the authority and credibility of your website. The better your site looks to Google, the higher you will rank in search engine results pages (SERPs).
Technical SEO
Technical SEO is the practice of optimizing a website to improve page loading speed and core web vitals (CWV) score. This will help Google spiders crawl and index your site more effectively.
Why Choose Our SEO Agency?
Script Consultants is one of the most trusted and the best SEO Company in Singapore. We have helped businesses and companies by ranking their website high on google search engine result page. This resulted in more organic visibility, authority and organic traffic on their website. Our experts achieved the results through our customized and result oriented search engine optimization strategies.
The best part about hiring us as your SEO agency is that we will not only implement all the things on your website which Google loves but also, make you understand about what SEO changes we will be making and how important those changes are for your website.
This is what separates us from other SEO companies.
So, don't worry about the niche of your business because whatever your business may be,
"If You have A Website, We Will Rank It. If You Don't Have A Website, We Will Make One For You And Rank It"
38%
Average Visit Duration - Increase
21%
Pages Per Session - Increase
Search Engine Optimization, or "SEO" for short, is the process of improving the ranking of your website on search engines. There are a number of techniques that can be used to improve your website's ranking, including optimizing the website's content, on page structure, having a great backlinking structure and improving your website's loading time and core web vitals score.
The ultimate goal of SEO is to make it easier for people to find your website through search engines, which in turn can help you to increase your website's traffic and conversions.
Why SEO Is Important For Your Business?
SEO is important for your business because it can help in increasing organic traffic of your website. This traffic can come from people who are looking for information about your business or your products and services. By optimizing your website for search engines, we will improve the visibility of your website which will attract more visitors. Additionally, SEO can help you to rank higher in search engine results pages, which can result in more leads and sales.
      DID YOU KNOW?
Over 95% of all searches are conducted through Google.
Websites receive more organic traffic and visibility on the internet with SEO services.
More than 70% of users completely ignore paid ads.
FAQs – SEO AGENCY IN SINGAPORE
What Is The Main AIM of SEO?
The main aim of SEO is to improve a website's position in the search engine results pages (SERPs), helping it to achieve greater web traffic levels. SEO works by improving the quantity and quality of traffic to a website from search engines, primarily Google.
How Much Does SEO Cost Per Month?
The cost of SEO can vary depending on the size and complexity of your website, as well as the level of optimization and maintenance required. Typically, you can expect to pay between $500 and $3,500 per month for a SEO campaign. However, more complex campaigns or those targeting competitive keywords can cost significantly more.
How Does SEO Work?
There are approximately 200 different ranking signals which google uses to rank a page or website in their search results. Although these ranking signals are still unknown but SEOs have decoded many of these signals. But, it's usually a good idea to avoid focusing on specific ranking signals and consider Google's overall objective of giving the greatest answers for its users.
Which Is The Best SEO Company To Hire In Singapore?
Script Consultants is the best SEO company in Singapore which you can hire for all your SEO needs. We have helped businesses rank their website high on google, resulting in more organic visibility, authority and organic traffic. Our experts use customized and result oriented SEO strategies to achieve these results.
This website achieved Google ranking in four months: Ranks #1-#3 for keyword "Opertray"
GROW TRAFFIC & INCREASE REVENUE
Tell us about your project
Let us help you get your business online and grow it with passion
Our team of professional SEO experts is the perfect partner for a successful business partnership.
"We've looked at a lot of SEO solutions but these guys were always the clear favorite. They have the right strategy and they've been awesome to work with."
Irene Warner
CEO & Founder
"We have a constant flow of new leads thanks to this amazing SEO company. They gave us all the tools to convert leads into customers."
Jeffery Polk
CEO & Founder
"This incredible team managed to not only get us top positions on Google for all of our top keywords, but they kept us there, as well! I would highly recommend this company to anyone."
Gabriel Townsend
Quality Realty Service
There is no form with title: "SEOWP: Free analysis request". Select a new form title if you rename it.