Team Script shares four content marketing trends that will become the mainstay of the marketing industry next year.
There is no denying that content marketing has played an important role in today's marketing strategy. And it will continue to remain that way as more businesses begin to adopt content creation as their consistent marketing strategy. The Drum has reported that the global content marketing industry is projected to experience an incremental growth of $217.3 billion, from its initial valuation of $195.58 billion in 2016 to a whopping $412.88 billion by 2021.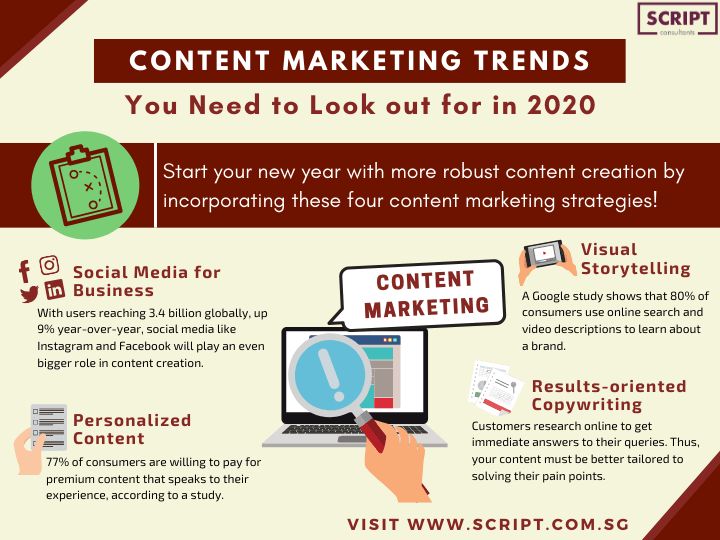 You may have heard it before numerous times, but we are going to reiterate once more. Content is crucial for scaling your company's success. It is a perfect tool to increase brand awareness because it can help you gain traction on your marketing campaigns. This type of marketing is highly cost-efficient because it enables you to organically promote your offerings by sharing valuable, consistent, and relevant content to engage and retain the audience.
Now, as the year 2020 is around the corner, here are some of the content marketing trends that we have predicted to play an even bigger role in the coming year:
Also Read: How Google's New Cookie Policy Will Impact Your Digital Marketing
Trend #1: Social Media for Business
Social media has come a long way since the era of MySpace and Friendster. From its humble origin as a small space for individuals to interact among one another online, social media has grown to become a powerful tool to amass a huge following and convey your key messages to like-minded people. Currently, there are more than 3.4 billion social media users, up 9% year-over-year. Such exponential growth has affirmed our belief that social media will not be slowing down anytime soon.
Another key advantage attributable to its growth is that social media offers a high degree of accessibility. Besides computers, users can also utilize social media from any portable communication devices. And with the growing number of mobile phone users—reaching more than 5 billion in 2019, up 2% year-over-year, the rapid uptake of social media has become inevitable.
Furthermore, with added features, such as live broadcast and story, the popular social media today like Facebook, Instagram, and Twitter have become a viable place to promote your business. The numbers tell the story. Let's take a look at the following numbers:
39% of Facebook users follow a Facebook Business Page to obtain special offers
Facebook ads have become increasingly lucrative, costing $1.72 per click.
Organic reach for Facebook Business Page posts averages at 6.4%
75% of B2B businesses found a market haven for branding on Twitter
Brands experienced 4% engagement with audience on Instagram, with Instagram Stories reaching to more than 400 million users daily.
The figures above suggest that businesses with social media strategy can engage their customer base more effectively. Therefore, social media campaigns have become a critical element in most businesses' corporate strategies.
Also Read: How To Double Your Sales Organically with Content Marketing on LinkedIn
Trend #2: Personalized Content Marketing
Digital platforms have changed the way customers consume content. And judging by the proliferation of their kinds, personalized content is among the content marketing trends that will catch on rapidly next year.
Digital platforms are equipped with myriad interactive features that encourage customers to participate and communicate with the brands. As a result, customers' expectations of content are changing. They are no longer satisfied with just being informed. More than that, customers consume content to receive entertainment and get involved in the process. This is in contrast with the way conventional mediums, such as TV and broadsheet publications, disseminate advertisements, in which customers and brands face inherent limitations when interacting with each other.
The shift from the conventional to digital medium and the evolving customer behavior further indicate the need for brands to adopt a personalized content strategy. When crafting content, brands must now consider how their content enhances customer experience, from raising awareness to closing the sales. With the expectation to accommodate end-to-end buying experience, brands must now create content that can inspire, mobilize, or start a conversation. In addition, they must maintain engagement from audience participation, to keep the momentum for conversions and sales going.
Having a personalized content is not just effective to boost sales on your products and services. On top of that, customers value personalized content so much that they are willing to spend a little more to enjoy premium content. A study has shown that 77% of customers will pay more for a brand that provides great relatable content. The reason for this is simple. Personalization allows you to communicate your content in a manner that customers find relatable.
Also Read: Best Guide To Master the Art of SEO Copywriting
Trend #3: Visual Storytelling
Digital media platforms have pushed the envelope for content marketing through online videos and other forms of motion pictures. Marketers have realized that they can amplify their content impact by imprinting customers with visual imagery.
Visual storytelling will likely take the center stage in 2020. More companies have found that it is an effective way to organically boost their brand image. Reasonably, more people have preferred video over any other form of content when learning about new products and services. Research has revealed that 80% of consumers resort to online search and video descriptions to learn more about a brand. The study showed that more than 50% of surveyed customers say that online video convinces them to choose which specific brand or item to purchase. Similarly, 55% of customers from the survey reference online videos while making a purchase.
Online video is perfect to market your content. With visual storytelling, you can package your key messages with creative visual-based narrative, invoking a varying degree of emotions in customers, and thus, better audience retention. Let's take a look at a hilarious video released by DBS to promote its latest banking product:
Through exaggerated humor, DBS has managed to capture the social media users' attention on its latest investment product. The audience will likely have better retention of information as they are not directly bombarded by the offered features.
Trend #4: Results-oriented SEO Copywriting
With the ubiquitous use of portable devices in customers' daily lives, the role of the search engine has also evolved. Most customers will quickly resort to search engine, primarily Google, to get immediate answers.
Furthermore, as online users demand to get answers right away, Google has modified its algorithm for search results pages to showcase a snippet of the most relevant website to their queries. This is a highly coveted position as Google not only displays your link at the top, it also shows a preview of your content much clearer than the rest.
How to get to this position, then? Well, rather than aiming to get a sufficient amount of keywords for the sake of improved SEO, your copywriting strategy should focus on bringing solutions to the topic you discuss. But to achieve such a desirable level of visibility, marketers must know how to create consistent content. This requires regular monitoring and content recalibration to find the copy that resonates well with the target audience. Zazzle Media has discovered that approximately 60% of marketers still struggle to create a consistent content strategy.­­
So, are you up to the task to implement these content marketing trends in your communications strategy? Please, share your thoughts in the comment section below!
---
Start your new year with the right content strategy! If you are looking to scale your business through content, then look no further than using our copywriting services. Script Consultants is a copywriting and content marketing agency that offers a diverse array of content strategies across mediums, including traditional, digital, and social media. Book a free consultation by emailing us at enquiry@script.com.sg. Also, check out our other blog posts on copywriting here!
https://script.com.sg/wp-content/uploads/2018/02/new-logo-web.jpg
0
0
Script Consultant
https://script.com.sg/wp-content/uploads/2018/02/new-logo-web.jpg
Script Consultant
2020-07-03 17:05:13
2020-07-03 19:37:58
Content Marketing Trends You Should Look Out For in 2020