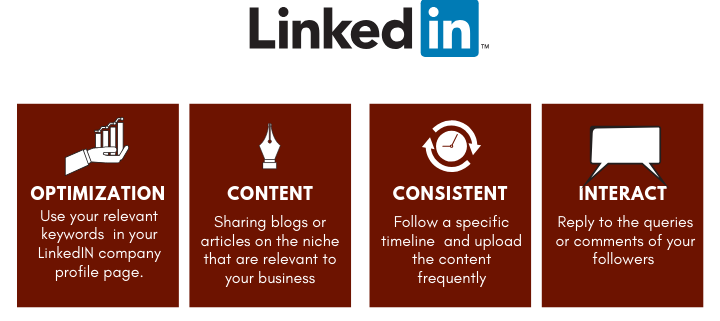 If you are looking to boost your sales organically, then Content Marketing on LinkedIn can be one of your best bet to get immeasurable success to grow your business. This particular marketing strategy has risen to prominence among B2B businesses looking to expand their market reach.   
Now you might be wondering how? Content Marketing helps attract as well as retain your visitors. Moreover, it enables you to convert them into sales organically. This means you have more customers without having to spend a huge amount of money on advertising campaigns or on boosting your posts.
Over the past years, the advantages of content marketing have evolved. Now, you can use various organic ways to attract and retain your new customers. In other words, producing the appropriate content for your business can result in direct sales. Sometimes, companies find it quite challenging to create a detailed editorial plan. But, implementing a unique strategy as well as maintaining consistency can improve your bottom line within a short span of time.
Also Read: 4 Emotions To Boost Your Content Marketing
Here are the best content marketing campaigns tips on LinkedIn to enhance your organic sales exponentially:
Tip #1: Engaging Your Audience is an Important Part of Content Marketing Strategy on LinkedIn:
Posting valuable content for your followers rather than promoting your product or services on LinkedIn is one of the most effective ways to build strong brand loyalty. We recommend that you produce different types of content, from videos to infographics, to attract more readers from LinkedIn to your site. Accruing more than 610 million members with over 40% of which visit the site daily, LinkedIn is a powerful tool to use to reach out to your potential customers. Moreover, growing your online presence in LinkedIn allows you to have an even playing field with some of the top-rated companies in the world in terms of content creation. Reportedly, 92% of Fortune 500 companies are using LinkedIn.
Also Read: 12 Content Marketing Tools For Your Business
Tip #2: Initiating Social Media Conversation with Existing Followers Helps to Build Customer Relationship:
Socializing with your customers gives them a more personalized, reliable source of information. If you can win your customer's trust, then they are likely to maintain a business relationship with your company. You can interact with your audience by creating groups on LinkedIn. Discuss the problems and let your products or services be the ultimate solution.
Tip #3: Learning about the Topics that Drive Engagement on LinkedIn:
According to research, posting about the latest trends of the current industry trend to captivate 89% of your followers on LinkedIn. Sharing the best tips and tricks props up your engagement 86% with the users on the platform. Creating the content on such topics will cultivate your following and eventually intensify your sales.
Also Read: Biggest Marketing Campaigns That Flopped & Failed in Market
Tip

#4: Taking advantage of LinkedIn Analytics Results in Better Performance:
LinkedIn Analytics can be used effectively to find out which type of content your audience likes. Keep a close look and understand your analytics pattern. Learn what kind of content is working for your business and what is not. You can then change your content on the LinkedIn platform to suit customers' preferences. Try out new ideas and implement them. Continue this process, and you will ace the content marketing strategy to increase your sales on LinkedIn organically.
Tip #5: Expand your Content Marketing Strategies Beyond the LinkedIn:
Never hesitate to push your LinkedIn content on other social media platforms. Such cross-promotion strategies bestow a rapid rate of growth in terms of engagement and the new audience. Not just social media, but also, sharing your content via email and other marketing communication tools is an effective tactic too!
In conclusion, experiment with these content marketing tips, and you will surely reach your sales target organically. You might not be able to see the results instantly, but you will raise the bar gradually. Regularly monitor your progress and let your approach do wonders for business!
If you are looking for a reliable partner to grow your sales organically on LinkedIn, drop an email to us at – enquiry@script.com.sg or visit our website.
https://script.com.sg/wp-content/uploads/2019/04/Content-Marketing-for-LinkedIn.png
540
720
Script Consultant
https://script.com.sg/wp-content/uploads/2018/02/new-logo-web.jpg
Script Consultant
2020-09-03 17:44:21
2020-09-03 20:15:04
Double Your Sales Organically with Content Marketing on LinkedIn