Learning to appreciate text ads on Google ever since.
Take it from someone who has created a Google Ad – It's not as easy as you think.
Like many others, I am well acquainted with the search engine. I use it on a regular basis to look up on whatever strikes me.
However, the premise of a Google Ad has never stood out to me. In contrast to all that visual-heavy ad content we face on a daily basis, text ads are underwhelming; There is nothing eye-catching to hold one's attention, nothing memorable about reading a string of words.
Yet the irony is that many websites rely on Google Ads to drive traffic into their pages. As much as they sound boring, they work. Ads can help you increase your page rankings (help you show up higher in a search result), help you reach out and target to those who are looking for you, and help you save costs; Which also led to me embarking on a Google Ad Campaign for our own site. (Yes, this site.)
I soon realised there were so many things to consider, so many aspects I never knew about Google Ads (Like the fact that Google doesn't only do text ads, but also allows visual and animation displays).
Through fumbling and hitting many dead ends, I got the hang of using and publishing on Google's Adwords platform. And if you are a beginner like me, here are 6 rules you need to follow before you proceed.
Rule 1: Study Your Surroundings
Creating a text ad sounds simple on paper: Open account, write text, publish ad, make payment and done!
Sadly, that's just Google's way of luring us all into a false sense of security.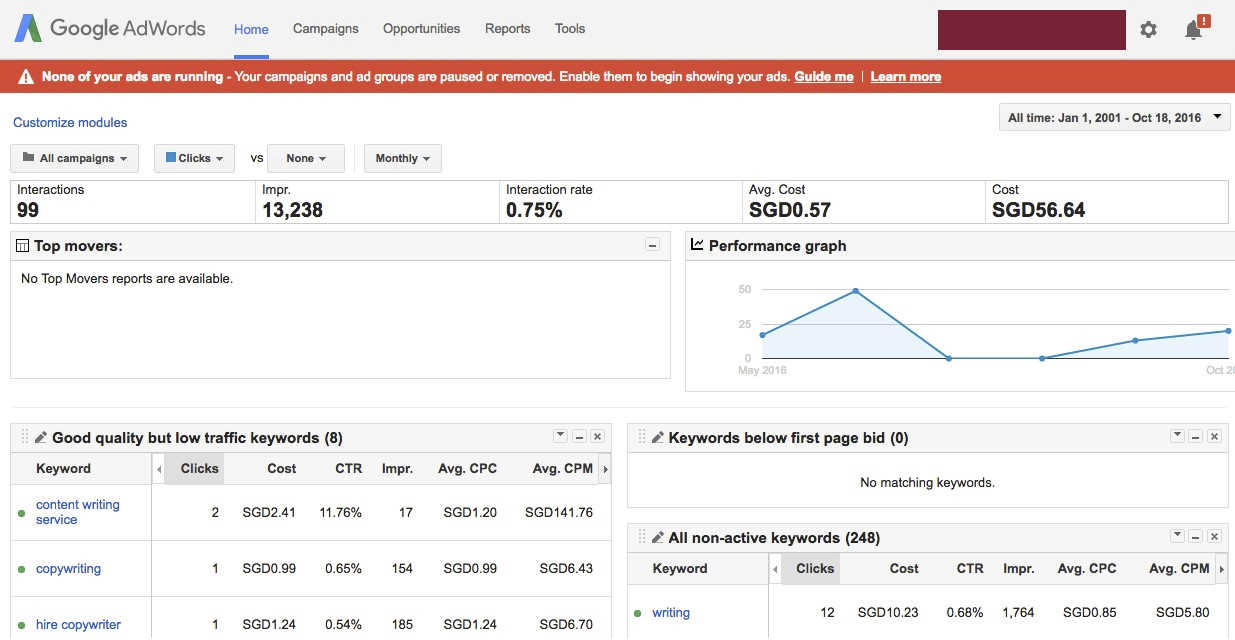 Enter the control panel, and you'll be greeted with complicated interface straight out of a stock exchange. Scrutinise its features, and you're met with jargon like:
Confused? It happens to the best of us. But don't smooth over and assume that you will just 'figure things out along the way'.
A big mistake I made was to 'guess' my way through the process without understanding each function's purpose and impact on my campaign. As I went deeper into creating the text ads themselves, I was so lost as to what steps I had to make, and had to restart from scratch.
This is why it's important to study before starting ANYTHING. Granted, the learning curve of this program is pretty steep if you're short on time, but reading up on the mechanics of each feature or term beforehand will prepare you well as you develop your ads. Google itself has a comprehensive guide on the definitions and processes. Likewise, resources from the web, like this and this are helpful as well.
Rule 2: Know The Difference Between Campaigns, Ad Groups and Ads.
As I started developing my first Adwords campaign, I soon hit a roadblock; Google refused to let me publish a text 'ad', unless it fell under a 'Campaign', and belonged to an 'Ad Group' within the campaign. 
It was frustrating; What's the use of this 'Campaign', 'Ad Group' thing? Like many others, I assumed there was an option to instantly publish text ads, like this:
Control Panel > Create Text Ad 
Yet, in an effort to help users organise and target multiple ads more efficiently, Google developed a process like this:
Control Panel > Type of Campaign > Type of Ad Group > Create Text Ad 
Even so, that created more questions than answers. What's the difference between a campaign, ad group and ad? Why is Google making life difficult by forcing me to sort ads into so many topic cubbyholes? I wasted valuable time trying and re-trying to categorise my web content into various broad and sub topics.
Here is a comparison chart explaining how the three components work.
It pays to have a clear understanding of the differences between these components, so that you will be able to segment your business, (and then your ads) more accurately and effectively. Don't make the mistake of starting bottom up (writing the ad, then grouping). Always start from a broad topic, and whittle down to specifics as you go. 
And most importantly: Plan, plan, plan. Sit down and ask yourself about what your business is about, listing out:
1) your core business
2) your product/service offerings
3) your unique selling points.
With these information cleared up, this will give you a better idea of what ad groups and ads you need.
Rule 3: Don't Overload on Extra Features (yet)
Adwords has an extensive range of options, adjustments and features to help users customise ads according to their needs. However, for beginners, it's best to avoid getting too much into detail.
Like most newbies, I made the mistake of trying to include everything at once in my text ads. I thought that setting specific bid adjustments and all sorts of extensions (location, sitelink, callout, call) would boost the effectiveness of my ads.
An example of ASOS' Google Ad, with Callout, Reviews and Sitelink extensions. 
Though I wasn't wrong, I wasn't doing it at the right time; Taking too much factors into consideration made it hard to really focus on what I wanted to say to customers. In addition, I soon realised doing that was masking the actual performance of my ad; With so much going on, I wasn't able to pinpoint exactly what worked, and what didn't.
While it's important to learn what's what and the range of services Adwords offers, keep your plans on 'strategising keyword match types' in the back burner. Do what's needed to create the text ads, but avoid exploring other options if you're not used to the platform. 
Start with actually creating and publishing a simple text ad, with no extra features whatsoever; Make necessary changes only after receiving insights about your ads' performance. Remember, Google Adwords isn't a one-shot hit or miss; It's always a work in progress.
In our next post, look out for three more Google Adwords rules beginners need to take note of!
Written by: (www.script.com.sg) 
Edited & Illustrated by: Script Consultants Pte Ltd
https://script.com.sg/wp-content/uploads/2016/10/script-oct18_adwordstitle.jpg
600
558
Script Consultant
https://script.com.sg/wp-content/uploads/2018/02/new-logo-web.jpg
Script Consultant
2016-10-18 18:03:53
2018-10-08 21:27:38
6 Rules About Google Ads For Beginners (Part 1)