Creating a stunning visual content for social media is among the most popular social media strategies for business. It is also one of the easiest marketing tools you can use to draw in a significant amount of audience to your content. As per research by Hubspot,  around 51% of the marketers are prioritizing visual content for their content marketing strategy as it brings in better engagement as compared to blogging. The reason for this is that videos and images can invoke audience's emotions better than just regular social media updates, and in turn persuade them into taking tangible actions that can translate to leads and conversions.
Luckily, creating visual content on social media is not difficult thanks to the presence of myriad mobile applications developed specifically for this purpose. These mobile applications are exclusively created to beautify your social media posts with engaging visuals. Here are some easy-to-use mobile apps that you can utilize to elevate your social media strategy to the next level:
1. Create Eye-Catching Social Media Content with Canva
Canva is one of the most preferred and super easy tools to use to create visual content for social media. It gives you a high level of accessibility to create the images from scratch. Things you can do on Canva include changing the background color of your deliverable, adding text, and embedding graphics in varying dimensions.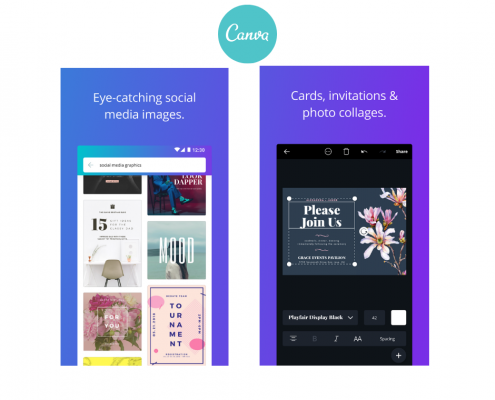 2. Create photos that people will love with InstaSize
Have you ever come across Instagram pages with fascinating, editorial-worthy visual contents that leave you wishing you could do the same? Well, you are in luck because you can polish up your images and videos with Instasize. This nifty mobile app is equipped with useful features that give you similar results to any media products made in fancy studios. For example, you can choose a varying degree of natural-looking filters that can go well with your social media feed. Additionally, if you are looking for more filters or fonts, then you can simply upgrade to InstaSize premium.
3. Enhance your Visual Content with Adobe Spark Post
From videos to collages and everything in between, you can curate every piece of visual content on Adobe Spark Post. You don't need to be a pro in graphic design in order to use this app thanks to its highly intuitive features. Create your own brand logo or funny memes with the help of given tools.
4. Change your background easily with Pixomatic
Creating cutouts and inserting a new background layout has never been so easy. With Pixomatic editor, you can take your pictures to the next level by showcasing your creativity. Also, you can blur your backgrounds, which gives a new depth to your visuals.
5. Create stop motion animated videos on your fingertips with Stop Motion Studio
Stop Motion Studio will help you make highly unique and creative videos in the style of stop motion. It captures the frames automatically and let you adjust the time of each frame. You can import your video clips and add animation onto it.
6. Preserve your original visual content for social media with iWatermark
By using a variety of features by iWatermark, you can mark your images and videos as your own intellectual properties. The app enables you to add your own logo or even create your own watermarks easily on your original content. This app will not only help you claim ownership of your work but also enhances your brand value through promotion.
7. Do the basic video editing on the go with InShot Video Editor
Now, you don't need to open up your laptop in order to do basic video editing because InShot will do it on your mobile phone. Video resizing, merging, adding borders, and playing around with filters are some of the best features offered by this free mobile application.
8. Time to unlock your creativity by creating stunning visuals with Pixlr Photo Editor
Pixlr is a basic photo editor with extraordinary features. Not only can you edit your pictures, but also you can share it directly on your social media profiles without any hassle. Test out creativity by amplifying the effects and filters with your images.
9. Show off your art and creativity with Plotaverse
Explore and create never-ending loop videos, GIFs as well as stickers with Plotaverse. You can create beautiful cinematograph by masking the areas of the visuals that you don't want to move. Sounds amazing, right? Then why wait for a professional to help you create a visual masterpiece for social media when you can do it yourself.
All of these apps are FREE to use and available on the Google Play Store. Now with these apps, you don't have to worry about spending your resources to generate highly editorial visual contents. Try each of these apps out and find which one that works the best for different types of social media campaigns. Get ready to show your creativity to the world of social media!
---
If you are looking to increase your social media presence, then look no further than using our services. Script Consultants is a copywriting and content marketing agency that offers a diverse array of content strategies across mediums, including traditional, digital, and social media. Book a free consultation by emailing us at enquiry@script.com.sg. Also, check out our other blog posts on copywriting here!
https://script.com.sg/wp-content/uploads/2019/04/Maximise-your-Sale-Conve-1.png
315
560
Script Consultant
https://script.com.sg/wp-content/uploads/2018/02/new-logo-web.jpg
Script Consultant
2019-12-16 11:54:33
2019-12-16 13:49:48
Create Stunning Visual Content for Social Media with these FREE Mobile Apps