Newsletter: Regularly distributed publication about one topic that is of interest to its subscribers.
Depending on its target audience, a newsletter can serve numerous purposes such as releasing information, motivating performance, promote unity and improve morale.
So why does your business or company need a newsletter?
A newsletter can serve as a sales pitch. It is also more credible as it contains everything from information about the product, and testimonials from customers. Furthermore, as the purpose of a newsletter is to be informative consumers won't feel like they are being sold something.
Check out the following newsletters that we love to receive in the mail:
Technology
Netted by Webbys
Why we love it: Netted constantly surprises us by showing us different types of apps and products to help make our lives better and easier. Want to know what are the 5 Apps to Brighten Your Financial Future? Head over to Netted to find out, and why not subscribe to the newsletter while you're at it?
Start-ups & Ideas
Springwise
Why we love it: Springwise has an option to receive daily or weekly newsletter depending on your preference. We like it because it feels like we are reading a newspaper, except it's specifically for innovators and start-ups, which makes it even more interesting to read
Hackernewsletter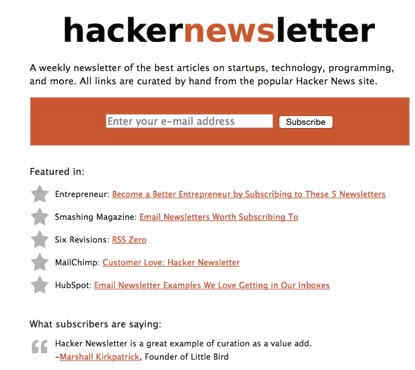 Why we love it: Are you a programmer? Then maybe you should try subscribing to the Hacker newsletter. Besides talking about programming they also contain loads of interesting facts and information in the start-up world and technology.
TED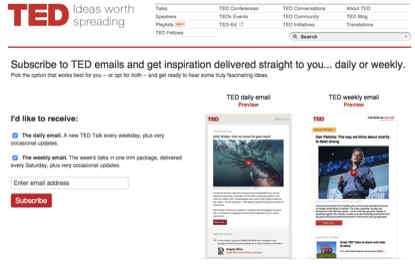 Why we love it: If you have never heard of TED then it is high time that you stop being out and start being in by tuning in to TED. From technology to global issues, there is a talk in TED for everyone. Start getting the latest talks from TED by subscribing to them.
Fashion
The Chic Geek
Why we love it: Most fashion spreads and newsletters are catered more towards the female audience. Which leaves the male audience left out of the scene. Chic Geek solves that by catering to both male and female audiences.
Eco Fashion World
Why we love it: Most people don't associate fashion with being eco-friendly. Eco Fashion proves that statement wrong by showing how we can be eco-friendly with the clothes choices that we make.
Fashion Magazine
Why we love it: Designed like a magazine spread, Fashion Magazine's newsletters are a delight to read and is visually appealing. If you haven't subscribed to its newsletters then you're missing out.
Food
NoshOn.It
Why we love it: Packed with interesting recipes and cooking tips, the nosh newsletter makes us want to dive right into the newsletter and eat the goodies off the screen. Are you a foodie or a domestic goddess? Sign up now with nosh to get awesome recipes and cooking tips!
Raw Guru
Why we love it: Currently on a raw diet or want to adopt a healthy lifestyle? Take a look at Raw Guru for fascinating information on the various types of Superfood and Raw Food.
Have a newsletter on your mailing list that wasn't mentioned? Comment below and share it with us!
Resources:
http://dailytekk.com/2012/08/20/3-tech-newsletters-youll-actually-want-to-read/?reading=continue
https://script.com.sg/wp-content/uploads/2015/06/0HFF1UYS9S.jpg
3648
5472
Script Consultant
https://script.com.sg/wp-content/uploads/2018/02/new-logo-web.jpg
Script Consultant
2015-06-05 14:39:25
2018-10-14 21:37:46
So What Exactly Is A Newsletter?