Proving how you don't need a good voice to get known 'musical.ly'.
Have you ever burst into full-on, lip-syncing mode and wished you caught that dramatic moment on camera? Or maybe dreamed of showing off your acting and singing skills without your parents cramping your style? With 60 million users and counting, Musical.ly has done just that; Answering to the prayers of tweens and teenagers everywhere as the latest social network dedicated to user-generated music videos.
Like a mashup between Snapchat, Dubsmash and Vine, the app joins in different aspects of these platforms to create an all-in-one social music service. Tapping into the younger generation's need for expression and creativity, this unique spin on blending sounds, video and theatricality is what's driving teens to this almost age-exclusive social platform.
So, how does Musical.ly work, and why should brands take notice? We dive in to explore the workings of this trending app and find out how it's set to impact and help brands.
What Is Musical.ly?
Screenshot of some of the wonderful videos done in Musical.ly.
The premise of this social networking app is simple; Connecting and growing people through a joint passion for music. Users basically record short videos, which they can edit and customise with their favourite music placed in the background.
Tapping into an individual's creativity, giving them the tools to interpret music into personalised content to showcase talent or connect with others is what Musical.ly is all about. As a result, the platform has flourished, generating a wealth of content ranging from funny skits, lip-sync singing, actual singing to artistic dances.
How Does Musical.ly Work?
While it may look difficult to use at first, the app thankfully has many handy buttons to guide the way. The bottom of the screen features a panel of 5 actions (From Left to Right):
The Home Icon: Watch clips contributed by 'Musers' (codename for users) all over the world.
The Search Icon: Check out trending tags, contests and video rankings.
The Record Icon: Create your own videos. (More about that below)
The Notification Icon: Check for any announcements or interaction notifications here.
The Profile Icon: Your profile page and video gallery.
Upon signing in, visitors are brought to the home page, which presents a slideshow of popular or trending videos. These examples give a good overview of what you can expect in terms of the video style, and the interactions. Similar to snapchat, users can slide up to move to the next video in an endless stream.
Not to forget is Musical.ly's core function: The music video recording feature. Upon clicking the Record icon, there are three options to choose from:
Pick Music: Select music from the app's library and create a music video. Great for lip-syncs or skits and performances.
Shoot First: Record a video with sound, or add the music later. Good for live conversations or singing recordings.
From Library: Grab a video or photos from your gallery and add music.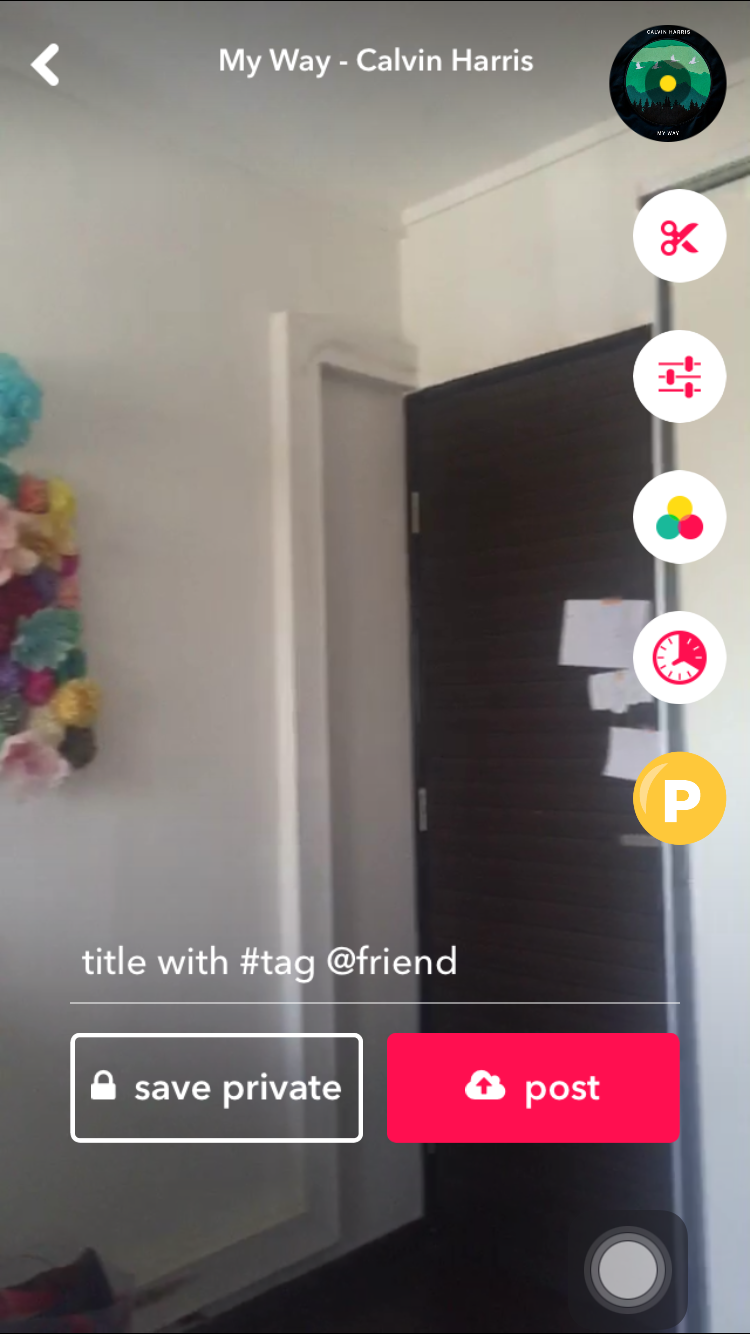 Once taken, users are brought to an editing panel, where they can cut and mix music, add photo or time warp filters. Finally, with a caption system similar to Twitter, 'Musers' can add a description to their clips and tag their friends (@example) or hashtag a topic (#singapore). Likewise, when users add the hashtag #featureme, app curators can discover and feature these clips on the 'featured' panel spot.
Why Should Brands Care?
In essence, Musical.ly is like the Instagram of music video; It is a platform where people can not only express themselves, but connect with others and get inspired by a community of user-generated content.
However, that doesn't mean marketers should cast it off as another wannabe social platform. For one, the app has amassed a strong following of Gen Z users – which are often the early adopters and predictors of major social platforms (think Snapchat and Vine).
Furthermore, brands have much to gain in connecting with these Under-20s; A huge population and growing purchasing power ($44 Million in the US) makes them an attractive and up-and-coming consumer group.
In addition, the popularity of Musical.ly presents a new avenue for live storytelling. Besides Facebook Live/ Periscope, there's also a growing market in Musical.ly for live video content, through the app's side feature, Live.ly. Marketers can utilise this new platform as an alternative avenue for creating tailored, live video content for niche audiences.
For example, Youtube channel What's Trending has been using Musical.ly to reach out to their target demographic, holding live chats on trending topics such as the recent Trump vs. Clinton debate.
What Are Some Brands Doing On Musical.ly.
MTV Asia's #OkdanceOke4 Contest
As the go-to channel for most teenagers over the years, it's no surprise that MTV was quick to jump onto the bandwagon. In fact, the channel is using Musical.ly to reach out to younger generations, maintaining its fresh and youthful appeal.
To promote their dancing show 'Oke DanceOke', the MTV tapped onto the theme and their audiences' interests to create a contest; Musers had to follow a dance instruction clip, video themselves and submit their most creative versions with the hashtag #OkdanceOke4. The winner would then win a set of prizes, and a chance to be featured on the show.
Good Morning America's Summer Concert Contest
Screenshot of Good Morning America's Musical.ly Contest Video.
Taking on a similar format, the news programme reached out to younger audiences for a Summer Concert they were sponsoring.
Good Morning America (GMA)  got fans to compete on Musical.ly in a lip-syncing contest. Musers had come up with creative videos, based on a chosen song by GMA and tag #GMACHALLENGE in their captions.
Lastly, submissions with the most likes got to proceed to another round. Through 4 rounds of different song choices, a winner would be chosen to attend a Demi Lovato concert.
What are your thoughts about this new social music app? Share with us what you think here!
Written by: (www.script.com.sg) 
Edited & Illustrated by: Script Consultants Pte Ltd
https://script.com.sg/wp-content/uploads/2016/09/SCRIPT-SEPT-26_MUSICALLY.png
500
1024
Script Consultant
https://script.com.sg/wp-content/uploads/2018/02/new-logo-web.jpg
Script Consultant
2016-09-27 14:29:23
2018-10-09 00:18:18
Tip of The Week: What Is Musical.ly?