Today's content marketing landscape has begun to hit a saturation point. There is increasing noise and clutter. With so much content, it has become increasingly difficult to stand out on words alone from the mass of 'white noise'. 
Long gone are the days where written content can sufficiently captivate a target audience. Traditionally, content marketing has focused on delivering quality information in a niche context. But, now brands will have to go beyond text as readers crave for more engaging platforms. This is where interactive content marketing comes to play.
Hailed as the future of content marketing, the premise of interactive content is simple. It uses various media (audio, video, graphics, html) to create content, allowing the user to participate and get their answers. Interactive content has the ability to entertain and inform without passing off as pushy. This is because the focus is shifted towards providing value for the user first, which can then translate to greater exposure or retention later. 
Here, we introduce 4 interactive content ideas that you can adopt in your next campaign!  
Interactive Infographics
Infographics are widely utilised as a simple yet eye-catching way to present information. Go a notch higher by weaving in a story, adding motion or other multimedia to a usually static graphic piece. The visual collateral is now able to further engage the reader by inviting their senses of touch, sight and hearing to consciously guide them along the content.
Washington Post's infographic on scaling Mt. Everest is an excellent example that weaves in personal audio stories, interesting facts and an ever ascending cross section to emphasise the majesty of the mountain.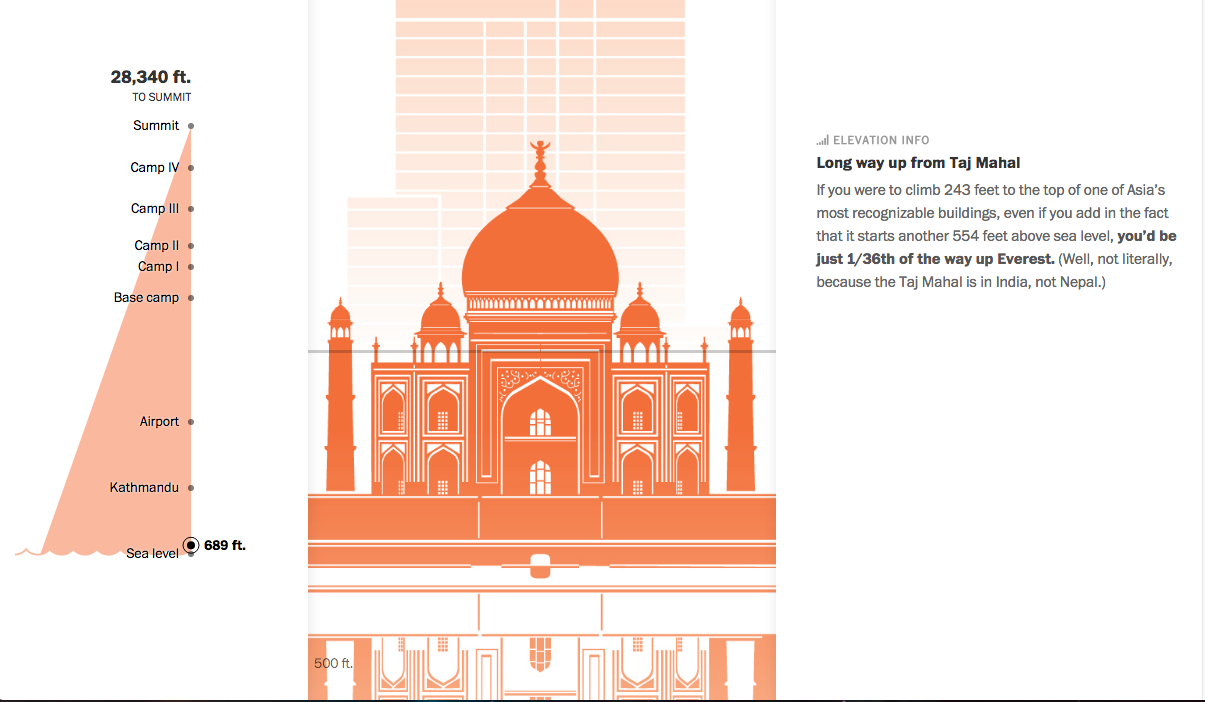 Photo Credit: Screen Grab from Washington Post 
 Personalised Data
We all want to feel like we are unique – Any way to stake a claim on our identities or know more about ourselves also helps to satisfy a need for order in our lives. Which is why content that is able to not only talk about itself but talk about the reader resonates well. There are many ways to incorporate personalised data, from the classic personality quizzes, to complex data maps, all of which are able to provide readers with exclusive stats.
In an effort to change people's perceptions of urban noise, research group Good City Life put together an interactive data map called 'Chatty Maps'. It allows users to click into the streets of 12 cities to find out what sounds and emotions they evoke, revealing a lot about the character of a place and its dwellers.
Screen grab of Chatty Maps webpage
 Calculators
Sometimes, information that may be too difficult for readers to process can be better explained in execution. This is especially so for data or statistics which frankly, might be too dry to read about. One way of supplementing content is the addition of widgets that can help compute input data to produce a result, translating statistics and applying formulas to come up with something useful for the reader.
Even simple calculators, like this CPM calculator add value and a lot more convenience than a lengthy article about web optimization.
Photo Credit: Screen grab of ClickZ's CPM calculator
 Interactive Storytelling
Life imitates art when it comes to telling a good content marketing story. Like how humans enjoy having the ability to make their own life decisions, the freedom of choice is a compelling aspect that draws people in. Instead of a one-size-fits-all piece, provide users with multiple storylines that they can choose from, which not only engages their participation, but also personalises content for them.
Interactive storytelling can come in the form of dedicated microsites or videos with clickable elements that users can select to affect the final outcome. This promotional video for Maybelline's Big Eye Mascara was promoted as a 'beauty adventure' where users can click on linked makeup tutorials within the video, based on their preference. 
Photo Credit: Maybelline NY's Tumblr Page
As technology becomes ever more integrated and intuitive, interactive elements will be the future for content, connecting with readers on all senses.
Written by: (www.script.com.sg) 
Edited & Illustrated by: Script Consultants Pte Ltd
http://script.com.sg/wp-content/uploads/2016/06/Script-9-Jun_Interactive-.jpg
4912
7360
Script Consultant
http://script.com.sg/wp-content/uploads/2016/09/script-logo-onelinefinalb.png
Script Consultant
2017-04-18 11:14:29
2017-04-18 12:15:04
4 Interactive Content Marketing Ideas